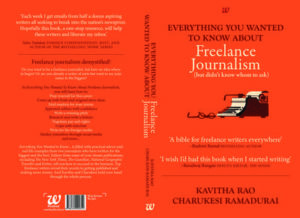 Now, a book that tells you everything you wanted to know about freelance journalism but were afraid to ask. By Charukesi Ramadurai
Kavitha Rao my co-author and I are both Bangalore-based freelancers who write for a variety of Indian and international publications. Neither of us has a degree in journalism or had a mentor of any kind when started out as freelancers. Between us, we get a dozen email queries each week from absolute strangers with questions on making it as freelancers. And we find that most of them have no idea of the basics: of what a pitch is, of how to approach an editor, of how to spot a good story idea. Add to that the misconceptions that flourish about freelancing: that you need an advanced degree in journalism (preferably from a foreign university), that you need contacts, that you just need to sit back and editors will send stories your way. Currently, there are no such guides available in the market for aspiring freelance writers.
We wanted to write a book that would demystify the business of freelancing and explain the basics – the title is self-explanatory. It is not meant to be a text book but a fun and interesting read. At the same time, we have in it not just our own stories and experiences but tips and writing advice from editors all over the world (including biggies like the NYTimes and The Guardian) and successful freelance journalists. It covers a wide range of topics, from the qualities needed to be a successful freelancer, to pitching, following up with editors, writing the feature and negotiating for payment. We also have a section on writing for the foreign media and writing on specialist areas such as travel, food and business.
We hope it will be useful for everyone from absolute beginners to seasoned pros who want to take their career ahead, and perhaps target higher paying markets.You can get the book here: http://www.flipkart.com/everything-you-wanted-know-freelance-journalism/p/itmds6whzhyz5r9p?pid=9789383260089